A puck with less bounce and roll...
so you can play heads up
Focus on your gameplay, not a puck that will bounce away from you during play
Starting from $10
An internal gyroscope distributes momentum to keep your puck on the court
When was the last time you missed a shot because the puck wouldn't settle?
An internal gyroscope sits at the center of the Hoplite puck. The moment the puck moves, the gyroscope spins.
The result? A puck that bounces less and lies flatter without rolling on its edge. So you can play your best game.
Try the Puck
Gyroscope
Spins like a fidget spinner when the puck is moving to stabilize it during passes (even during a saucer pass)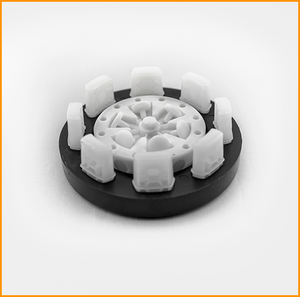 Glide Pins
Made from a new Polyethylene alloy with a larger surface area. Glides well on sport court and resists wear and tear better than rubber or plastic.
Inertia Pins
Distributes impact to help the puck settle and lie flat faster when moving or coming to a shop
Balanced Weight
Weighs 103 grams for a solid stick feel and optimal glide
Cutting edge materials that withstand hard gameplay
Ultra-high-molecular-weight polyethylene
Thermoplastic Polyester Elastomer
Polyvinyl Chloride (PVC)
Made with tough materials for the best level of performance and durability
Hundreds of prototypes and tests went into the design and engineering of this puck.
Watch performance tests against other pucks to see how Hoplite compares
Get the perfect feel
We worked with players all over the world to get the feel just right.
"Expect not too heavy, not too light, a smooth glide over sport court, and a dramatic reduction in bounce and roll." - Derek Sanborn, co-founder
What real players are saying about Hoplite
"This newly innovative puck is truly one of a kind. I have competed at the most elite levels in the sport and there isn't a puck on the market that slides faster or settles quicker than the HopLite puck. Also speaking as an In-line Hockey Director, durability and puck-life are just as important as performance and HopLite delivers on all fronts. Simply put, this puck is worth the investment." - Colin
"I started playing inline hockey when it first started more then 20 yrs ago. I remember the first pucks and even balls that we used. Coming from Ice Hockey, it drove me crazy how it would bounce and roll so much. You couldn't make all the plays you wanted too. Over the years, it hasn't changed much until on a whim I bought a HopeLite Puck for my youth team I coach. The kids and my staff love how the puck settles down great on players sticks. We have been using it for a couple of weeks and It's by far are favorite puck." - Casey
Money-back guarantee
Just like on the court, we believe in respect and trust. If you don't like Hoplite after playing a game or two then send it back to us with your comments for improvement, and we'll refund you. No questions, no complications - just transparency.
Faster Gameplay for better tournaments
Make every face-off count and perform during critical game moments
Order Hoplite Puck now
Designed for players by players
Hoplite was created by roller hockey players and life-long enthusiasts, Doug and Derek. They love roller hockey to the moon and back and want to keep the sport thriving in the US and worldwide
Derek Sanborn
"Hockey has been great to me. So many lesson on and off the ice/court. I'm happy to be in a position to give back to the game."
Doug Bauman
"To be able to share the game of hockey with my 3 boys has been more than I could ever ask for. I've watch them grow with the game and I've enjoyed hockey being part of our family"
See which tournaments and teams are using Hoplite
Alberta Pro
Alberta Minor Roller Hockey Association (AMRA)
JCC of Metro Detroit